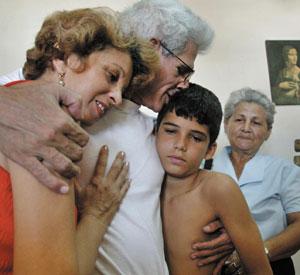 BACK HOME: Released Cuban dissident Manuel Vazquez Portal reunites with his son Gabriel, wife Yolanda, left, and sister Francisca in Havana on Thursday. ADALBERTO ROQUE/AFP-GETTY IMAGES

Cuba is freeing sick dissidents 'to avoid a mishap,' experts say


By NANCY SAN MARTIN



Miami Herald


The Cuban government's decision to free six jailed dissidents in recent days is designed to avoid the embarrassment of having them die behind bars and is not an indication that it is loosening its grip on dissent, experts said Thursday.
''The common denominator here is that all are in poor health,'' said Elizardo Sánchez, head of the Havana-based Commission on Human Rights and National Reconciliation. ``It's apparent that the government is trying to avoid a mishap. They don't want anyone to die in jail.''
Since April, the government has released 10 political prisoners, including the six who were among 75 jailed in a crackdown last year against human rights activists, opposition party leaders, economists, independent journalists, librarians and other government opponents. The 75 received sentences of up to 28 years. Four other dissidents, jailed two years ago, were released on June 8.
Last year's arrests drew worldwide condemnations, and calls for the dissidents' release have grown urgent as more of them suffer deteriorating health.
About 20 are suffering from life-threatening illnesses, several of which have required hospitalization and medical procedures, Sánchez said in a telephone interview.
The six released over the last two weeks also were gravely ill.
Although Cuba experts said the releases are a welcome gesture, they added that there is no indication the government is leaning toward tolerance: More than 300 dissidents remain incarcerated, including some 80 declared ''prisoners of conscience'' by Amnesty International.
Additionally, the government has continued to detain activists and recently handed down sentences of up to seven years against more than a dozen dissidents who had languished in jail since 2002 without trials.
''The release of some and the imprisonment of others shows the power of the state to do whatever it wants whenever it wants to,'' said Damián Fernández, director of Florida International University's Cuban Research Institute.
''These latest releases give the appearance of a thaw, an opening that is more a mirage than a reality,'' Fernández added.
Also of concern is the fact that the six dissidents freed were sent home under an ''extrapenal license,'' meaning their convictions remain in effect and that they could be returned to prison at any time.
Still, Cubans with relatives behind bars remain hopeful that more will be released.
''At least six of them are out,'' Lydia Lima, 65, wife of economist Arnaldo Ramos, 62, said by telephone from Havana.
``Some day it will be our turn to be reunited with our loved ones.''
Lima is among a group -- consisting of wives, mothers and sisters of prisoners and known as the Women in White -- that has staged quiet demonstrations around Havana.