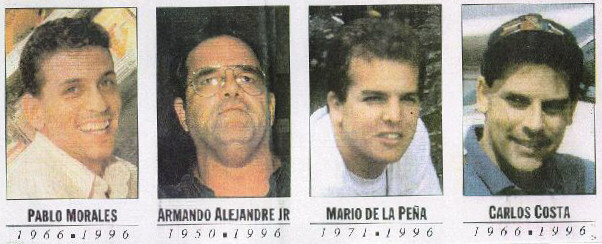 The February 24, 1996 Downing of Civilian Aircraft by Cuba and
Biographies of the Four Men Killed in the Attacks.
On the afternoon of February 24, three small civilian and unarmed planes left on a humanitarian search and rescue mission in the Straits of Florida, similar to 1,800 others that have been conducted by Brothers to the Rescue since 1991. Only one returned.
These small planes maintained radio contact and monitored the frequency of Havana Center. They reported their presence in the area, as well as, the nature of their mission. Furthermore, they identified themselves with Cuban radar control officials as customary and continued to radio their position to Havana tower periodically throughout the flight.
But, without warning, and while flying in international waters, two of the planes were shot down by Cuban MiGs. These were brutal, premeditated murders committed without warning and in broad daylight. A complete disregard for the values and rights of human lives and the principles of international law and civilized societies. The four men killed in this heinous attack were volunteers of Brothers to the Rescue and committed to individual freedom, human rights and non-violence.
Armando Alejandre, Jr.
Armando Alejandre, Jr., was both known among the Cuban exile community and Cubans on the island. Although not a pilot, he was very active with Brothers to the Rescue, participating in various missions to deliver food and supplies to Cubans detained at a refugee camp in Nassau, Bahamas. In addition, Armando formed part of the working group in exile in support of Concilio Cubano (Cuban Council), an association of opposition groups within Cuba.
Armando, who was 45 years old, was a fervent participant in the struggle for the liberty of Cuba. More recently, he had become convinced of the power of communication in achieving change. His sister, Ana Alejandre, after learning of her brother's death, expressed that "he would have wanted to be remembered as a patriot and felt that the humanitarian efforts of Brothers to the Rescue were aimed at the hearts of the Cuban people and in this way help bring the demise of the dictatorship on the island."
Arriving in the United States from Cuba at age ten, at eighteen he voluntarily joined the U.S. Marines and fought in the Vietnam War. Even at this young age, he was completely dedicated to the struggle against communism. After serving two assignments in Vietnam, he retired with a rank of sergeant. He worked for the Dade County Department of Transportation, was married and has one eighteen year old daughter.
Armando will be remembered as a constant and familiar face of the Cuban exile protests in New York, Washington, and Miami, of the "Democracy Movement" flotillas, as well as, of the humanitarian mission flights of Brothers to the Rescue were he always left a sense of friendship, respect and true love for his homeland of Cuba.
Mario de la Pena
Mario de la Pena was a 24 year old of Cuban heritage who was born in New Jersey and raised in Miami. This young man was completely committed to the cause of saving the lives of those fleeing Cuba. While studying to obtain his license as a commercial pilot and working part time for American Airlines, he volunteered for Brothers to the Rescue and flew on over 95 search and rescue missions in the Florida Straits. He also piloted flights to take food and supplies to Cubans detained at a refugee camp in Nassau, Bahamas.
Mario lived with his parents in Miami and was very active in his parish of Saint Agatha Catholic Church. In addition, Mario was a active member of Directorio Revolucionario Democratico Cubano, an organization of young Cubans and Cuban-Americans.
Mario was very much respected by his colleagues for his high regard for details and professionalism. He will be deeply missed by his family, friends and all the many whose lives he touched.
Carlos Costa
Carlos Costa was 29 years old and piloting one of the Brothers to the Rescue planes that was shot down by Cuban MiGs over international waters.
Carlos was born in the United States in 1966. He graduated from Monsignor Pace High School in 1984 and attended Embry-Riddle Aeronautical University in Daytona Beach, Florida. A human resource administrator for Miami International Airport, he lived with his parents and enjoyed spending time with his family, particularly his three nephews.
Carlos was a volunteer for Brothers to the Rescue, serving as a pilot, administrator and flight coordinator. He was so committed to the cause of saving lives that he would fly even on holidays. Upon his death, Carlos had completed more that 140 missions over the Florida Straits assisting in the rescue of 456 men and women fleeing the Castro regime on fragile rafts. On one occasion he told a journalist doing a story on the work of Brothers to the Rescue that "there is nothing better than saving a life."
All those who knew Carlos will always remember his intense dedication, warmth and true concern for others.
Pablo Morales
When Pablo Morales left Cuba on a raft in 1992, he was spotted by one of the Brothers to the Rescue planes. After arriving in Miami, Pablo joined the group who he credited for saving his life serving as a spotter looking out for other rafters, while he trained to receive his pilot's license. Pablo worked as a product distributor in Dade County and often spoke of his family who remained on the island. In Cuba, Pablo studied topography and althought he had been born and raised in the totalitarian system, he expressed that he realized that "everything about it was a farce."
Pablo was 29 years old and leaves behind for those who knew him fond memories of sincere friendship and human dignity.

---

Copyright © 1999 Brothers to the Rescue, Inc.